H A P P Y T H A N K S G I V I N G ! !
11-26-'99 / 12:16.46 A.M.
I hope everybody had a nice Thanksgiving! Even if you are from a family that doesn't recognize or celebrate this holiday, I'm sure most of you have something to be thankful. Whether that be a warm shelter over your head, or a good steady job, today was the day to reflect on all of our fortunes, and be optimistic for once. =)
As for me, I would like to give a heartfelt thank you to everyone out there that prayed or gave their best wishes for my grandma. I'm extremely happy to say that she is recovering from her grave injury, although it seems she will never walk on her own power again. Her condition is infinitely better than it was last month. I don't know if it was the work of the doctors, or the work of God; to me, I gladly give thanks to both. It's the fact that I know she will be spending this holiday season w/ her loved ones that is important. The biggest lesson I have learned this year, is to cherish the gift of life. To be able to take advantage of every second of living... that is the true meaning of priceless.
P R E L I M I N A R Y P I C K S
11-25-'99 / 03:32.35 P.M.
Mucho apologies for this update being late, but I totally forgot about the Thursday games (even after I received the picks from the other staff members) until right now. And panicking really doesn't help my production, so here are the picks for TODAY'S game, while I hack out the rest of the week slowly today. Again, my apologies.
--------------------------------------------------------------------------

Thursday, November 25

Chicago at Detroit 12:40pm

GERRY: Detroit- The Lions D actually looks pretty good, although penalty prone. Chicago is now a purely passing team, and Jim Miller's luck can't last 3 straight weeks.

NONE: Detroit- The NFC Central is topsy-turvy, and Chicago can get back into the playoff race with a win today. What do I give thanks for? Uh...read the last two lines of the Miami at Dallas analysis. Oh, yeah, Detroit wins because they need to rebound after the Arizona & GB defeats. And they're at home.

RICE: Detroit- Bears are surprising many people, but this week they come back down to earth.

Miami at Dallas 4:15pm

GERRY: Dallas- Emmitt Smith's back, and even though he has a broken hand, he's still one of the best. The Dolphins' run defense is actually pretty good, so Dallas should be forced to the air. Likewise Miami's also lacking their QB, so this should be an ugly game.

NONE: Miami- Oooh....this one's weird: Dan Marino is back. Why weird? Damon Huard showed some poise last week, rebounding from that bad loss in Buffalo to beat the Patriots in a big game. Can Marino take them to victory? What's really at stake here? Home-field advantage throughout the playoffs. I think they can pull it off. The real reason to watch, though? Shania Twain's (growl!) live concert on CBS after this game on Thursday. I give thanks to her...assets.........yea.

RICE: Dallas- This game is at Texas Stadium. I have yet to see Dallas lose at home.
R U R O U N I K E N S H I N
11-22-'99 / 09:17.69 P.M.
This week's Song of the Week is the most unique one we've had. It's from the anime series mentioned in the title. D/l the songs, and you can judge for yourself if Rice has lost his senses. Personally, I like these two selections, although Japanese music takes a WHILE to get used to. To access these songs, please Click!
Here are Week 11's results: Rice (11-4 +); Gerry (10-5 +); None (8-7 -)
- Week 11 went by pretty smoothly. San Diego almost pulled off a miracle comeback, catching up 10 points in 3 minutes to send the game into OT, only losing by a FG.
- Mark Brunell and Jimmy Smith made me believe the Haguar offense was alive again.
- The Niners will stink for the next few years.
- The Bengals played valiantly. They didn't deserve to lose that game against Baltimore. Jeff Blake is starting to look like a QB again.
In other news:
- I saw SLEEPY HOLLOW this past weekend. Damn, it was badass! I'll have a review for you soon, hopefully. But it has lower priority than BONE COLLECTOR or AMERICAN BEAUTY. I also saw BEING JOHN MALKOVICH, but that movie is too weird to review.
- Damn I hate USC. USC SUCs.
- Kevin Garnett has assured himself a shot at the MVP award at the end of the season. He does everything! What's most surprising is his assist average. He's the next MJ. They'll call him KG.
- Shaq is also making a case for MVP, and I think he'll win it. Big man is having Wilt-like games. Scary. He's even htting FTs once in a while!
- Duncan is quietly getting his 20 points and 15 boards a game. I don't think anyone notices how he's so damn consistent, and is a block machine.
- I wouldn't pencil in Lamar Odom for the Rookie of the Year award just yet. Steve Francis is really coming around.
- Gotta go, lest I hog all the front page space. Have a Happy Thanksgiving everyone! Eat a drumstick for me.
W E E K 11 F O O T B A L L P I C K S
11-20-'99 / 08:51.53 P.M.
Has been posted in the Articles section for the past 2 days, but I neglected to mention it in the news until I remember just now. Click!
Anyone catch Who Wants to be a Millionaire on Friday, the 19th of November? John Carpenter, an IRS agent was the first contestent in the show's short history to win the full million dollars! If that wasn't enough, he managed to go through the entire trivia contest without using a single life-line... until the very end. With the one million dollar question in front of him, he requested to call his father. Then he proceeded to say, "Dad, I don't really need your help, I just called to tell you I'm about to win a million dollars. Because the answer is B. Richard Nixon, and that's my final answer"... Wow! What a flair for the dramatics this guy had. Took home the big kahuna, and with style too. Heh heh...
UCLA lost to USC today in football for the first time in eight years. Damn. There ended our decade of dominance over our cross town rivals. And they had to lose during my first year at the school too! Oh well, there's always basketball right? The Bruins are ranked in the top 10, while SC is nowhere to be seen in the top 25.
R A N T S
11-17-'99 / 05:00.69 P.M.
Gerry here:
FYI, you can always tell it's me doing the update if the hundreds place of the seconds on the time says "69." If you check the past archives, you find that it's been this way for like a year already. =) I wonder if anyone was eagle-eyed enough to catch it.
- My review of Mariah's new album "Rainbow" is up. Click! Speaking of Mariah, is it me, or are her breasts really big and really far apart? I guess it was a botched boob job.
- Congratulations to Chipper Jones and Ivan Rodriguez, the NL and AL MVPs, respectively. I agree whole-heartedly w/ Chipper's award. But I think Pedro Martinez should've been the AL MVP. He already won the Cy Young, but he's also the most "valuable" player. W/o him, the Red Sox are gutter dwellers.
- I just saw the same ASF version of POKEMON: THE FIRST MOVIE. Damn, it was so depressing, I wanted to cry. I wasn't expecting something so dark and brooding and philosophical.
- Anyone like Korean bitches? Here's a couple. Click! and Click!
- For those doing fantasy b-ball, here's a list of cheap-priced sleepers:
1.) Ruben Patterson, SF - He puts up numbers across the board and plays defense.
2.) Jaime Feick, FC - He rebounds and rebounds and rebounds. Gets garbage points.
3.) Robert Pack, G - Steve Nash is injured, so Pack gets all the time at PG for Dallas.
4.) Adrian Griffin, SG - Best rebounding SG right now, plus is a steals machine.
5.) Marcus Camby, FC - Production starting to waver, but still good for blocks and boards.
6.) Sam Cassell, PG - The most underrated PG in the league. Having a career year.
7.) Jim Jackson, SG - Rider is in dog house, so he logs the minutes and shots.
8.) Cedric Ceballos, SF - Back from injury w/ a venegeance. Better rebounder than expected.
9.) Raef LaFrentz, FC - Also coming back from injury. Gets 3 blocks and 10 boards consistently.
10.) Jerome Williams, F - Just like Rodman, but can score 15 points. Doesn't miss much.
- In case I don't update next week, Have a nice Thanksgiving everyone!
L I N K O F T H E D A Y
11-16-'99 / 07:32.57 P.M.
Alright, the message board is definitely starting to stagnate. So how many of you think you're smarter than 98% of the population? Let's get something going in there with this nice link Wisdom sent over. Click!
Post your answers in the message board! I derived an answer myself, but I'm not sure if it's correct. We can compare in the MBoard. This might take a while to solve, so do it when you have an hour to spare or so. Like during your lunch break or something. =)
T E R R I F I C T U E S D A Y T U N E S ( ? )
11-16-'99 / 02:47.50 P.M.
For the first time in "Song of the Week: The Next Generation" history, we here at Rice World have missed the Marvelous MP3 Monday deadline. Blame it on school. Blame it on work. Just don't blame it on us! Heh heh... Just kidding. We are at fault for this unexpected tardiness. However, as the old saying goes, better late than never right? So here you go. =) Save Ferris has been moved onto my unbearably slow server, with Song of the Week #5 taking it's place on the speedier dedicated bandwidth. Let's end the suspense... Click!
In addition to Song of the Week, we also have an inaugurual movie review from none other than... uh.... None. =) Sounds kind of funky putting it that way. Be sure to check out what he thinks of THE INSIDER, starring Al Pacino and Russell Crowe. Click!
V O O D O O 4 . . . A N D 5 ? ?
11-15-'99 / 03:34.19 P.M.
Not a typo fella's. Today at Comdex, one of the top computer trade show for professionals, 3dfx unveiled their new graphics accelerator, aptly named the Voodoo 4 and Voodoo 5. This information is very new, and I'm still getting trickles of information from various sites. Reports are that fill rates range from ~300 Megatexels (that's about Voodoo 3 level) up to 1.3 Gigatexels!!! Holy shamoley... apparantly they are using a new proprietory technology known as the VSA-100, sort of like what ATi did with their Fury MAXX, they are able to combine multiple chips onto one board for super acceleration. Will post more info when I get them. Who can resist high speed 3D accelerator news anyway? ;)
P O K E M O N & F O O T B A L L
11-14-'99 / 01:31.56 P.M.
Alright, for those that aren't on the ListBot announcement update, I had the Pokemon movie review done and posted two days ago. Just right now I put on the finishing touches for the Week 10 NFL picks. Mucho apologies for it being slightly late this week. Procrastination really is addictive... heh heh. =)
For the Pokemon review, click! For the Week 10 NFL picks, click!
B A C K F R O M H I A T U S
11-10-'99 / 05:54.69 P.M.
Gerry here:
Wow, it's been a while since I did one of these update thingys. I apologize for my disappearance. Notice how Rice World suddenly got more wholesome and moral when I left. Heh heh. No more of that! There hasn't been "fuck" or "shit" in the news for months! Anyways........... here are some things that have been in my head lately. Instead of Being John Malkovich, this is more like Being Gerry Wang:
- First on the agenda, I think my ED has started to subside. I think it's because I got all my midterms over w/. Plus I found a new job. So I'm starting to get back my taste for women. And here's crediting the woman who helped revitalize me. Click!
- Well, I wouldn't make an update if there wasn't really something to update, so here's my THREE KINGS review. Sorry for being so late. I actually watched this movie like a month ago. Click!
- I also watched AMERICAN BEAUTY and THE BONE COLLECTOR in the meantime, and I'll hopefully have reviews for you guys soon. I'll just say right now that AMERICAN BEAUTY is my vote for Best Picture Oscar. And I'll just say right now, Angelina Jolie is on next year's Most Beautiful List.
- Have you guys been watching Popular on WB Thursday @ 8 PM? Carly Pope and Leslie Bibb are the best babe duo since Ginger and Mary Ann. Damn I love that show. I relate to it, since I was a freak and geek in HS, and still am.
- Dawson's Creek, on the other hand, has been declining. Now it's just about whores and fags. I want to watch Dawson and his teen angst. I don't wanna see Dawson and Joey fucking each other. Damn it.
- Now that the NBA is in full gear, you'd think that I'd finally be getting my fill of basketball after all these months. No, that is not the case. I only get to watch Laker road games. Grrrr. Speaking of the Lakers, I think they're overachieving. It's all Shaq right now, and Rice w/ some contribution. The rest of the team sucks. Brian Shaw and A.C. Green ain't gonna cut it. Need Kobe to come back.
- Let's see, what other upcoming articles are backlogged....... I've decided to can my Rise of the Asian Athlete article, on the grounds that it's preposterous. Asians have small weiners. It's a fact of life. Blacks.......... well you get the picture.
- The TV Stars article is actually getting completed, since I get to go online more to get pics and stuff. Got a nice brand spankin new DSL connection. Heh heh heh. (Evil laugh)
- Anyone hate their roommates? Let's use this site as a forum to complain about all the faggot roommates out there in the world. I got a couple of real gems......... damn, I punched a hole in the wall and broke my hand because I was so pissed at them.
- Damn, I'm pumped for the Pokemon movie. Mew vs. Mewtwo. Mew is #151, so we've never seen him before. If anyone knows what that cyborg Pokemon that the Team Rocket boss in the Viridian City gym has is called, please tell me. It's so badass.
- I see all you guys are Quake freaks. Personally, I get nauseous after about 2 hours. What's the trick to not getting sick while playing?
- Well, need to take a dump. I find that my toilet squeezes my bowels because the seat is so small. Either that or my ass is too big. But damn, it's a grueling effort to force my feces out. Hence I get my defecation sessions shorter, and thus I have to make more trips. Sucks.
- Late!
A R O U N D T H E R I C E
11-10-'99 / 12:04.46 P.M.
Have you guys heard of (no, not AllAdvantage) FreeDrive.com yet? It's a place where it allows storage of up to 20 megabytes of files! Zips, docs, and yes, even MP3's! The basic underlying concept is that it'll allow you to store your files on the internet, thereby eliminating cumbersome floppy disks and such nonsense. However, I'm sure there are other benefits to FreeDrive.com, especially possibilities that aren't listed in their online manual, eh? Heh heh...
Anyways, just a quick heads up on something you guys might find interesting. =) Oh yeah, I forgot to provide the link to it. Here you go: Click!
Q U A K E I I C O N F I G T U T O R I A L
11-10-'99 / 12:04.46 P.M.
Here we go! The Gamers section is finally starting to kick into gear, with yet another feature article from staff writer Wisdom. Instead of your traditional leisure reading, this article is slightly technical in nature. Those w/ a strong background in logics and math will have a breeze w/ this new article, but those more inclined towards literature or humanities may struggle a bit.
Regardless, it is an excellent compilation of how you can customize (w/ nearly infinite possibilities) different sets of keys along with combo commands in Quake 2. Those that have always been wondering what in the heck is that console thing or how to use various commands manually will experience an epiphany after reading this article. Click!
M A R V E L O U S M P 3 M O N D A Y
11-8-'99 / 11:03.28 P.M.
Before I go back cramming for a midterm...
It's Marvelous MP3 Monday again! This time, Save Ferris got the nod, with their new single MISTAKEN. However, this is the first week that we had clearly dissenting opinions on one song. In addition, I have decided that I will place all current Song of the Weeks on a separate, dedicated server for you all to download. That way it'll be faster. Older songs will be relegated to my own personal server. Read the Editor's Note for more info. Click!
W E E K 9 F O O T B A L L P I C K S . . .
11-6-'99 / 06:29.50 P.M.
...has been posted! Some analysis may be terse due to me being hipdeep in midterms. Other than that, the usual suspects are there! Check out what the so-called Rice World experts think of Week 9 in the 1999-2000 NFL season. Click!
The NBA season is starting to roll! How about them Celtics, huh? Let's see what else... is Vince Carter the most electifying player in the NBA or what? Also, I love watching Jason Williams highlights. Sometimes it seems as if he has eyes in the back of his head. Reminds me of some guy named Magic... The Spurs are buff. Until someone can figure out how to stop Duncan / Robinson, they will repeat as champs (in my humble yet worthless opinion... heh heh). Rookie of the year will be Lamar Odom. He has single handedly raised the Clippers into a semi-respectable team. Actually, wait a minute... let me think about that. =)
Until next time, cheers!
W A L T E R P A Y T O N D E A D
11-2-'99 / 10:45.40 P.M.
The Fall season just before the millenium will forever be remembered as a time when the greats passed on. First there was Wilt Chaimberlain, now Walter Payton, the leading NFL rusher of all time. It seems like God has other plans for those two, as they will never witness the coming of the millenium. There isn't much else to say, but I feel there should be a moment of silence for someone such as Payton who has influenced and touched so many hearts and fans.
Wilt Chaimberlain, Payne Stewart, Greg Moore, Walter Payton...... and the obituary rolls on as year 2000 rolls in.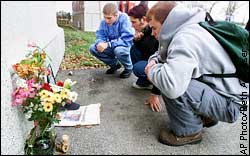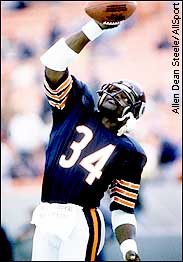 __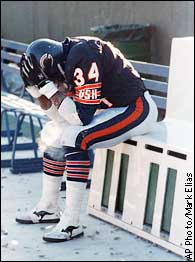 M A R V E L O U S M P 3 M O N D A Y
11-1-'99 / 08:56.11 P.M.
Oops, posted this one up a little late this week, but it's here! Marvelous MP3 Mondays is something you can expect for a long time here at Rice World. I know the Song of the Week tradition has been on a stop & go basis ever since the launch of this site, but I have a feeling this one will last. Enough babble, to check out David Duchovny, click!
On another note, the Quake 3 Arean Tour Bus Experiences article is finally complete! All submissions have been received, and now posted. If you haven't yet read them, click!
This week you may see slightly less activity from Rice World, due to knee bending midterms. Apologies in advance to regular visitors. =)