The Insider

(By None)
_
---
THE INSIDER
(Al Pacino, Russell Crowe; Directed by Michael Mann)
by None
(Author's Note: This is my first movie review for Rice World since my ill-fated attempt at my own web site. I hope to write more in the future if I ever get time off from school. This isn't the type of movie I usually watch, but recently, my tastes have changed. I guess I've matured. =P)
At its very best, "The Insider" is unmatched. An intense, gritty portrayal, director Michael Mann gives us an amazing look at the key players of one of the decade's most infamous public health issues. Russell Crowe and Al Pacino, as 'insider' Dr. Jeffrey Wigand & "60 Minutes" producer Lowell Bergman, respectively, give powerful performances to top off a well-rounded cast. It is their roles, their parts, which give the film the emotion and character that it has.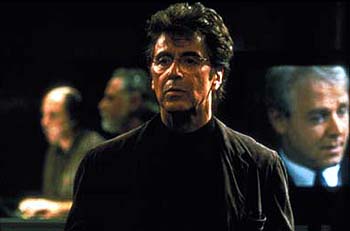 "60 Minutes" producer Bergman (Al Pacino) is
suddenly thrust in the middle of Wigand's life.
The heart of the story is simple, although as we later find out, it's only a small piece of a much complex puzzle. Wigand has been terminated from his job as the consultant for the third largest tobacco company in the nation. Faced with the truth about the illegal practices that his company (Brown & Stevenson) uses, Wigand chose to object to his superiors, and thus the reason for his firing. Meanwhile, Bergman sees in Wigand "the ultimate insider." After all, Wigand needs money, wants revenge at the industry, and knows the entire truth. Faced with the decision of a lifetime, Wigand must choose whether or not to do the "60 Minutes" interview, and eventually, be the star witness in the trial brought forth by Mississippi against the entire tobacco industry. Doing so, however, leaves his family in high risk. From his decision, everything else explodes: A chain reaction is set, each of which affects Wigand's life in one way or another.
Mann has to be given a lot of credit for the details he mixes in to give the film a heart. There's the effect (with a shaky camera at times) of being a homemade movie, to give the film a personal touch for Wigand's story. Each character is fully developed, and we, as the audience, can connect with them. We are able to see how everything is falling apart for Wigand, how each thing is tugging at him and killing him inside. There are the threats from his company and from an unknown source. His family is forced to move into a smaller place after he gets fired. There's the concern for the medical attention his young daughter, infected with asthma, needs. (Their other daughter is that adorable Pepsi girl- just had to get that in there =) And finally, his wife is unable to deal with the circumstances, and Wigand's marriage falls apart. At his low point, Wigand has only one man on his side – himself.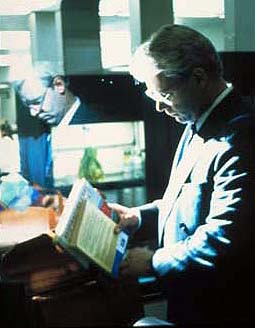 Wigand (Russell Crowe) has to make a
decision that will change everything.
From Bergman's point of view, we understand how much he has invested in this interview and how much Wigand's life affects him too. He feels responsible for everything that happens to Wigand as a result of the interview, and as Wigand sinks, Bergman does too. His own fight is against the CBS corporate suits who refuse to air the interview in its entirety, and we see his frustration building up. Bergman genuinely cares: He's the friend that Wigand has but never knows about. "I fought for you, and I still fight for you!" And he does. And everything Wigand endures, Bergman does too.
Most films based on true stories, like "A Civil Action," are restricted by the actual events, and isn't as entertaining as the audience might want. "The Insider" is one of the few movies that succeed despite their limitations by what happened. It has a note at the end, something along the "Certain events in the film have been dramatized for effect." I feel compelled to mention this because "The Insider" was able to work outside the lines; it's an extraordinarily truthful view from both sides of the coin.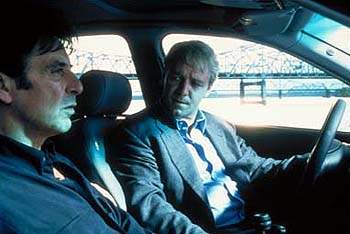 Two extraordinary men must find a way to beat
everything they're faced with.
Despite getting rave reviews from critics across the nation, "The Insider" grossed only $8 million in its opening weekend. There's the feeling that it a movie geared for older audiences, but I enjoyed it immensely, and recommend it to all of you. The only problem I found in the film – the length, at 2 hours and 35 minutes – is easily overlooked given the quality of it. I wouldn't be surprised if this movie is nominated many times come Oscar-time, especially for its superb acting performances. "The Insider" is a powerful and moving film. Michael Mann takes a story we might have read in Time or Newsweek and turns in into a human drama about extraordinary people faced with the heat of extreme circumstances. Watch it.
Overall Rating: A
Summary: "The Insider" is easily one of the best movies of the year and one of the best I've ever seen. It's an exceptional effort by Michael Mann; it shows the power of raw emotion. It's everything critics have hailed it as.