(By Gerry Wang)
---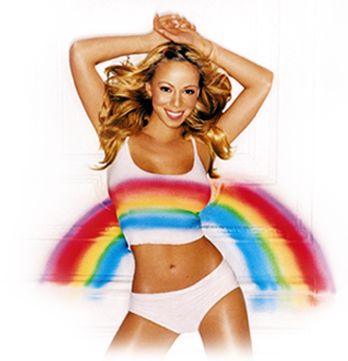 MARIAH CAREY - "Rainbow"
Released singles: "Thank God I Found You," "Heartbreaker," "Heartbreaker (remix)"
Notable guest singers: Snoop Dogg, Usher, 98 Degrees, Joe, Missy Elliot, Da Brat, Mystikal, Jermaine Dupri, Jay-Z, Master P, DJ Clue
Street release date: November 2, 1999

by Gerry Wang

Oh man, Mariah looks so hot these days. She's lost a lot of weight or something. Either that or her photographers and cinematographers air brush her like crazy and her make-up people are whizzes. I doubt it though. What makes her better looking now than ever is probably how her inner beauty is starting to show through. What the fudge is Gerry talking about? Let me explain.

Yeah, I've always called Mariah a bitchy slut diva. I've heard stories of how she demands that all her needs are fulfilled, and how people hate her guts, particularly her rivals in the music industry. But now, I realize that all those stories, though maybe partially true, are taken out of proportion. People are just jealous and resentful.

You see, Mariah has 2 legions of fans. One likes her love-song-dripping w/ cheese mainstream tunes. These are the songs that made her into the most successful female artist in history, starting in the early 90's when she was a conservative, young up-and-comer. She's spent more time at #1 than the Beatles, mind you. The Beatles!!! The Beatles were demigods, and people gladly worshipped them w/o a second thought. Why isn't the same true of Mariah? Because of.......
Her second legion of fans, those who like her more recent incarnation as a R&B/hip hop hottie. The Mariah whose last 2 albums have been steeped in R&B roots and exhibit rappers as duet partners. The one who bares a lot on MTV in low cut tops and short shorts. The one who likes the way she portrays herself as a boytoy. The one who's in the tabloids for dating Derek Jeter, that lucky S.O.B.

So you can see where they'd be a backlash against Mariah's apparent hypocrisy. Who does she think she is, changing the identity of her music so radically?

But which Mariah is the real Mariah? Is it the choir girl of the early 90's? Or the black queen of the late 90's? I'd have to say Mariah is a hybrid of both, sort of like a schizophrenic. She moves along w/ the times. She's like the Borg--she adapts. In the early 90's, soft rock and easy listening was the trend, so that's what she did. But those singers died off and were replaced by this new movement of hip-hop.

So Mariah adapts and enlists people like Bone Thugs N Harmony and Puff Daddy to work w/ her. Because those are the people that were popular during the late 90's, and still are. And Mariah's career is as flourishing as ever. Look at Celine Dion, who was cut from the same mold as Mariah in the early 90's. She's remained the same love song-blaster even till now, but Celine Dion definitely hasn't been embraced by the youth of this generation.

But perhaps we can also trace a personal aspect to this evolution of Mariah's career. When she came into the recording business at around age 19, she married her producer (20+ year older than her, I think) who strictly controlled her output and career. He was the one who engineered all those #1 love song hits. But was it really Mariah's self? Anyways, they divorced in '96 or '97 and immediately we started noticing a change in Mariah.

Her songs went from melancholy to more upbeat, more hip-hoppish. Her last album was called "Butterly," a not so subtle reference to her new found state of mind. She believed she broke out of her mainstream easy-listening cocoon and blossomed into an R&B butterfly.

This is about the time where I stopped getting nauseous whenever I listened to one of Mariah Carey's songs. I couldn't stand those syrupy sugar-coated slow jams. Made me feel like a dinosaur. Made my insides rot. I am extremely thankful for Mariah's evolution. Yes, I belong to the 2nd legion of fans. And I don't resent her for changing.

Although "Butterly" showed remnants of Mariah becoming a full-fledged R&B artist, it's "Rainbow" that truly legitimizes her full-blown conversion to hip-hop. Yes, I really went out and bought her album, and if I had a scanner I'd scan the picture in the insert booklet. Fuck me she looks gorgeous!

Anyways, back to the album.........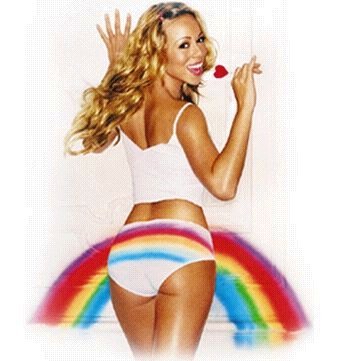 "Rainbow" is the best album Mariah has made. I'm speaking from a strictly "2nd legion" standpoint. Her Top-40 mainstream legion might enjoy a few songs on the album, since they still show Mariah's slow jam side. But the majority of "Rainbow" is hip-hop, and it's done extremely well, thanks to the efforts of an all-star team of producers.

Jermaine Dupri brings his signature So So Def sounds to "How Much," and Usher makes an appearance as a counter voice to Mariah. Master P samples his own record label, No Limit, to help Mariah make "Did I Do That," probably my favorite song on the album. That song is exactly the same as Silkk The Shocker's "It Ain't My Fault" and it even features the same guest spot by Mystikal, another No Limit Soldier.

There's a song, "X-Girlfriend," that I'd swear on my neighbor's uncle's mother's cousin's grave was made by the same guy who did Destiny's Child megahit "Bills, Bills, Bills." Some guy named She'kspeare or something. If someone knows, can they please tell me? "X-Girlfriend" sounds so Timbaland-ish, w/ its beats and syncopations. Definitely a modern Mariah there.

My fourth favorite song has to be the Damizza-produced "Crybaby," which features the always fantastic Snoop Dogg in a playful rap concerto. Damizza's the one who remixed the "I Still Believe" song w/ Da Brat and Krayzie Bone (that song is available on Mariah's #1's CD). Da Brat shows up again, this time w/ Missy, to remix "Heartbreaker," Mariah's chart topping hit.

It was "Heartbreaker" that compelled me to set my sights on acquiring this album. Because it had Jay-Z, one of my favorite rappers, and it also had a kick ass video. "Heartbreaker" and its music video manifestation are frolicking masterpieces, and a refreshing change from the usual dreary songs about love lost.

But "Rainbow" still has its share of power ballads, don't get me wrong. It's through these songs that we get a window into Mariah's heart and soul. Thanks to Newsweek, who brought me up to date w/ Mariah's personal troubles, I now see that it ain't easy being her, and her love songs/ballads are a means for catharsis, and there's nothing to harp on about that.

Mariah is not close w/ any family members, yet she still financially supports them and puts her relatives through college. Mariah's had to deal w/ racism issues, since she's not white, not Latino, not black, but categorized by the public into one of those three. Tabloid appearances about her divorce and her love life would have been tough on anyone, not just her.....

This is why I applaud her tenacity. Through all this personal strife, she's been able to maintain her recording duties, public appearances, and video shoots. She's a workaholic, sometimes working 20 hour days. Yet the media still burns her in effigy. I'll admit though, that the SNL parody got me rolling on the ground releasing waste through all my orifices. Because it was so dead-on. Heh heh. I'm still chuckling.

I'm starting to respect Mariah more, now that I've gotten some info on her background. And after reading how the last track, "Thank God I Found You" (an excellent soulful slow jam featuring Joe and 98 Degrees) was based on her new love, I can't help but be happy for her and not as jealous of Luis Miguel as I should be. Because this is her first album that ends on a happy note, and I'm glad for her, and I'm glad for me, since I've found a new artist to become a fan of.

***1/2 out of 4
Music Scale:
4- a classic; one for the collection
3- satisfactory; worthy of a purchase or at least a listen-through
2- mediocre; get the mp3s
1- atrocious; buy it so you can destroy it and prevent someone else from getting tainted by its hideousness