(By Gerry Wang)
---
RICE WORLD'S 1999-2000 NBA PREVIEW presented by Miss Rice World 2000
by Gerry Wang with reporting from kurupt
HTML tweaking by Gerry & Rice

Tis the most wonderful time of the year............ la la la la la la la la la laaaaaaaaaaa.

I'm pretty anxious, as you can see. =) Because it's time for NBA hoops! Wow, seems just like yesterday when the Spurs battled the Knicks for the championship, doesn't it? Yeah, yeah, I know, I said football time is the most wonderful time of the year, but hell, I meant autumn.

Btw, I'm #8 out of 23,000 on Echelon Sports Fantasy Football. Let's see some pats on my back. =) J/k. I need to reach #5 to get $200. Right now I'd only get $50. No good.

Anyways, it's time for some NBA regular season action. I can't wait, because now we finally get to see some decent highlights on TV. Football's only one day. NBA is every day. No more baseball. Please. Get that shit over w/, and let's get dunks and three pointers back on the evening news!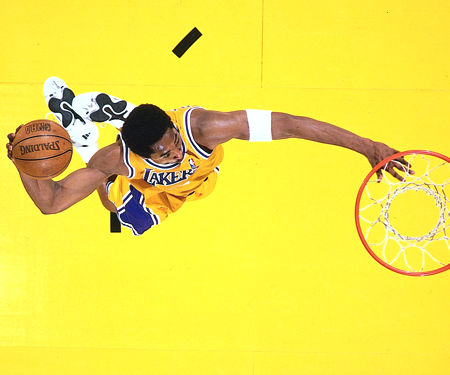 This season there will be a noticeable "parity" among the NBA. <Ominous music> There's that word again. Thanks to an excellent draft class and free agency, every team has improved itself to a certain extent. Of course, there are still the perennial cellar dwellers that will remain in place ala the Dallas Mavericks.

But teams like the Clippers will come out of nowhere to shock people. The Bulls will double their win total from last season. The Nets will be in first place for a while. The Grizzlies will get their franchise high in victories. Portland will win the championship.... and they'll do it by playing Charlotte in the Finals.......

Yessir, this season will be weird....... here's some more predictions:

-> This season's MVP will be Shaq. He's looked great this preseason, and playing under a coach who can motivate him will undoubtedly make him even better.

-> Shaq will also be the Defensive Player of the Year. Just watch. Big man's gonna bring da thunder. He won't be soft on the blocks anymore.

-> The Rookie of the Year will be Lamar Odom, completing a Los Angeles sweep of awards. He's the smoothest, most versatile rookie since Magic Johnson. Steve Francis will be a narrow runner-up.

-> The Jazz will suck bad this year, as John Stockton and Jeff Hornacek tally a half a season's worth of missed games due to injuries.

-> The Suckramento Kings will earn the right to be called Sacramento by yours truly.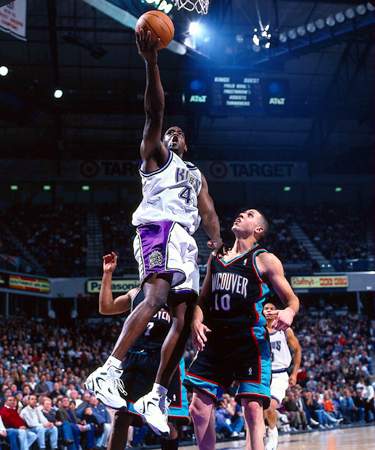 -> The Detroit Pistons will continue to smoke pot.

-> Houston blazes into the playoffs only to be put out by the Lakers. Again.

-> San Antonio trades David Robinson, and narrowly misses reaching the Finals.

-> The 76ers turn lots of heads, as do the Denver Nuggets and Phoenix Suns.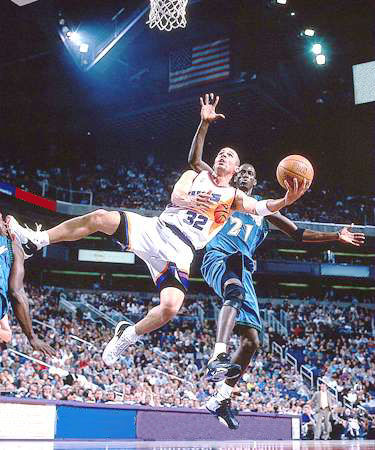 -> Indiana stinks this year and Larry Bird leaves on a sad note.

-> Every team will honor Wilt Chamberlain's memory at one point in the season.

-> Every team will do either a "turn back" or "turn forward" gimmick and issue freakin ugly uniforms for one game as a marketing ploy.

-> There will be at least one paternity suit against an NBA player.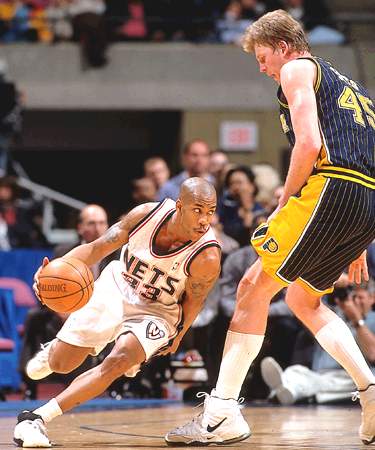 Here's a rundown of how I think the standings will end up at the end of the regular season, with Conference rank in parenthesis. Click on each respective divisions for indepth analysis:

WESTERN CONFERENCE
******************

Pacific Division
Portland Trailblazers (1)
Los Angeles Lakers (3)
Sacramento Kings (5)
Phoenix Suns (7)
Seattle Supersonics
Los Angeles Clippers
Golden State Warriors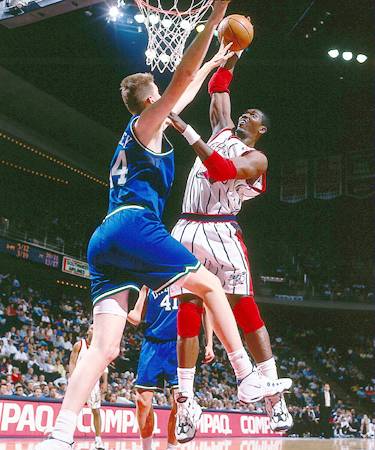 Midwest Division
San Antonio Spurs (2)
Houston Rockets (4)
Utah Jazz (6)
Minnesota Timberwolves (8)
Denver Nuggets
Vancouver Grizzlies
Dallas Mavericks
---
EASTERN CONFERENCE
******************

Central Division
Charlotte Hornets (2)
Indiana Pacers (4)
Toronto Raptors (6)
Atlanta Hawks (8)
Cleveland Cavaliers
Milwaukee Bucks
Detroit Pistons
Chicago Bulls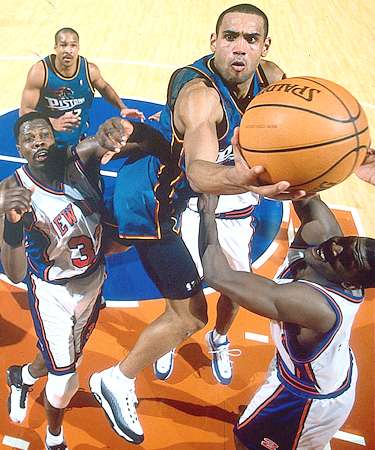 Atlantic Division
New York Knicks (1)
Miami Heat (3)
Philadelphia 76ers (5)
New Jersey Nets (7)
Washington Wizards
Boston Celtics
Orlando Magic
---
NBA PLAYOFFS 2000
*****************

Western Conference Finals
San Antonio Spurs vs. Portland Trailblazers


Eastern Conference Finals
Charlotte Hornets vs. New York Knicks


2000 NBA Finals
Charlotte Hornets vs. Portland Trailblazers


2000 NBA Champions
Portland Trailblazers