(By Gerry Wang)
---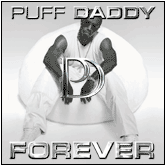 PUFF DADDY - Forever
Released singles: "Satisfy You," "P.E. 2000"
Notable guest singers: R. Kelly, Kelly Price, NAS, Jay-Z, Biggie, Redman, Bizzy Bone
Street release date: August 24, 1999

by Gerry Wang


Everyone knows Puffy. White boys, Latinos, Niggas, Azians. Everyone has heard of the Bad Boy proprietor turned multi-platinum rapper. His first album, released in 1997, is a rap classic, chock full of tunes that make you wanna get up and dance, drawing heavily on samples from familiar tunes. And after the MTV Movie Awards, where he performed "I'll Be Missing You" w/ Sting, the whole world got exposed to Puffy's extravagance and spectacular talent.

But people also saw the effects of the slaying of his best friend, Christopher Wallace, or the Notorious BIG. The way Puffy expressed his grief was by dancing, producing a hit song in tribute. But in reality, how hard is it to get over your best friend being shot to death right before your eyes, dying in your arms? After producing his first album, "No Way Out" w/ the aid of Biggie (a.k.a. Notorious BIG), Puff Daddy became subdued.

Then more controversy was piled on, as Puff Daddy was arrested for assaulting Interscope Records president Steve Stoute, over his refusal to edit a NAS video in which Puffy was portrayed as a Jesus-like victim of a crucifixion. Puff Daddy, or Sean Combs, apparently had a change of heart, due to his religious beliefs. He believed his portrayal in the video would come off the wrong way, showing him to be like Christ. Puff Daddy is deeply religious, so he requested that his depiction as the Messiah in the "Hate Me Now" video be cut. Stoute said OK. The video aired in its original form on MTV. Puffy was outraged. What he did was wrong, however. You must not smite anyone, regardless of their wrongdoings. He acknowledged that, and the ordeal was settled monetarily.

This came after Bad Boy Records was suffering through a dry spell. The new releases from Bad Boy artists Total, Faith Evans, and 112 were doing only mediocrely. Suddenly, Bad Boy wasn't plastered all over MTV or the radio air waves anymore. People were starting to say how the Bad Boy Empire was falling. The Downfall of Puffy was at hand! Everything Sean Combs had worked for was being scoffed at. How would this make you feel?

But now, things are looking up, w/ the new releases from Bad Boy mainstays Ma$e and Puffy himself. These albums are expected to sell very well, w/ expectations for Puff Daddy's new album, "Forever" reaching platinum. So, it is sad for me to say, "Forever" is not a worthy follow-up to "No Way Out." It has at least 3 sure hit singles, but unfortunately the songs in between them are pure plywood-filler.

I was extremely disappointed, since I'd traded in 5 CDs at Whorehouse (Wherehouse) for it. I coulda gotten the new Christina Aguilera album so I could look at more pictures of her, or I coulda gotten the new Noreaga joint, which promises to be dope. Or I could've waited till next Tuesday and gotten the new Beatnuts album, "A Musical Massacre." I've already d/led a good many of their mp3s, and goddamn they rock. I will get "A Musical Massacre" for sure and review it. The bad part is I might have to dish out ca$h. I'll try to avoid this, as I am still a broke-ass college student that drunkenly wastes $20 for lap dances and licking whipped cream off boobs.

Back to "Forever," my initial impression of the new album was one of gloom and melancholy. Look at the album cover. It's a hazy gray tint. Even the poster is a blending of rage, as seen in the red part, and absolute somberness in the black part. Puff himself is looking worn and fatigued, plagued by adversity and pain, suffering through tragedy and controversy.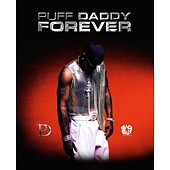 One of my rituals when I obtain a new CD is to scan through every track, listening to maybe a minute of each, so that I can gather a perception of its identity as a whole. I was praying that the dull gray CD cover wouldn't translate into dull gray music. So as I was scanning the CD tracks, I was crushed. Because gloom and frustration permeates nearly every song. I was expecting an LP that will make me get jiggy, and I could play it at parties. Unfortunately, there were only a few "active" songs. A total departure from the hip hop dance beats of "No Way Out." It seems Puffy has lost some of his spirit and enthusiasm.

This is not to say that "Forever" sucks. It's just that you'd never expect this type of music from Puff Daddy. There's a lot of blaxploitation-style 70's funk being drawn upon, w/ jazzy blues piano and electric riffs. The most blatant track w/ this trait is "I Hear Voices," with guest singer Carl Thomas, a 70's kitsch soul singer. You might remember him. He's the guy who sang the "Kung Fu Fighter" song from the 70's.

There's also a lot of gospel harmonies, which, to me, shows Puff Daddy's maturation from being a hip hop single-generator to a legitimate rap artist. He knows he's not a rapper. Hell, he sometimes stumbles through the rapping, as we hear in "Is This The End (Part 2)." But he's a legit entertainer and musician. He's also trying to show his religious devotion. One of his best tracks is "Best Friend" w/ Mario Winans, a touching tribute to God Himself, w/ sampling from Christopher Cross's "Sailing."

But despite an impressive list of guest singers, "Forever" fails as a whole. Puff Daddy clearly has pent up feelings inside him. Feelings of vengeance, rage, sadness. It seems like "Forever," even w/ its title, was meant to be a musical catharsis for Puff Daddy. Biggie was credited w/ the Executive Producer recognition, as if this was Puffy's way of saying goodbye "forever."

And after this album, we'll eagerly await PDLP3, as mentioned in the acknowledgement section of the booklet insert. PDLP3 promises to be more upbeat, a return to the roots of Sean "Puffy" Combs. As the last track's title states, Puff Daddy is "P.E. 2000," meaning he'll rock on in the future. But not after he says, also in the booklet insert, a final "Fuck Y'all Niggas" to his enemies. And trust me rage is in every song.

But till then, pick up "Forever" if you want a collection of smooth, jazzy rap songs, that depart from Puff Daddy's more mainstream background. His lyrics are masterful, w/ references to pop culture ranging from Lauryn Hill to other things I can't remember right now. But if you want name-brand Puffy, I'd suggest you skip this album and just purchase the singles that have been released. "P.E. 2000" is a fly dance song, and "Satisfy You" w/ R. Kelly is a deft blend of R&B and rap, to the familiar tune of "I Got 5 On It" by Luniz. Of course, Luniz sampled this from somewhere else........... but hey, this whole sampling trend is a different topic, different discussion. We just need to know that goddamn these songs kick ass.

And we don't gotta be black to like Puff Daddy.

**1/2 out of 4
Music Scale:
4- a classic; one for the collection
3- satisfactory; worthy of a purchase or at least a listen-through
2- mediocre; get the mp3s
1- atrocious; buy it so you can destroy it and prevent someone else from getting tainted by its hideousness