(By Gerry Wang)
---
CHRISTINA AGUILERA - CHRISTINA AGUILERA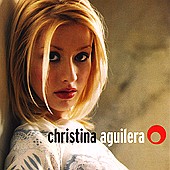 Released singles: "Genie In A Bottle," "Reflection," "I Turn To You"
Notable guest singers: screaming little girls
Street release date: August 24, 1999
by Gerry Wang

The name Christina Aguilera has always been somewhat enigmatic to me. When the MULAN soundtrack first came out, there was a version of "Reflection" by a certain Christina Aguilera, whom I thought, at first listen, was either a Filipino opera star or washed up 80's diva I've never heard of. I'm serious. Her voice sounded that mature, that vibrant, that radiant. But, alas, what's a has-been songtress singing on a Disney movie anyway. Losers.

Then, maybe 6-7 months ago, "Genie In A Bottle" was released, and it was a super-catchy, hip hoppy/pop hit. It had a phat beat, some nice syncopated drum beats, and it had that voice again. This time, I thought perhaps she was some kinda late 20's singer who just came onto the scene. I got the Mp3, and kept it a secret from my FTP leeches, who seek to plunder my Mp3 war chest. This is not true, actually. The leechers are cool. But I'm just paranoid. It was supposed to be my little Mp3 by an obscure, unknown singer who couldn't possibly catch on.

And then BAM, the song's all over the airwaves. I couldn't turn on KIIS-FM w/o listening to that song. And you know what happens when KIIS discovers a song people like. They instantly play it to death, and the end result is that you hate that song so much you just want to reach into your radio and strangle the DJ until his smartass mouth is silenced forever. Gasp...gasp........ homicidal tendencies abating........ article shall continue.....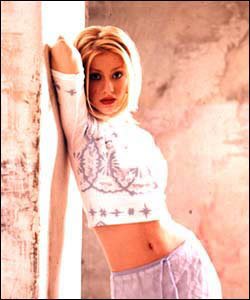 Anyways, "Genie In A Bottle" became one of those songs that I hated. I still didn't know how this Christina Aguilera person was. I didn't know how the hell she became so famous. Then the music video came out, and I realized she was a blonde 18-year old hottie, and I instantly had a crush on her. Her video started to be played in heavy rotation, and her fame increased exponentially. I eagerly awaited getting her album. Since now I knew that there were 2 already released singles that weren't all that bad.

But then, there was also the Britney Spears question. I'll be the first to say, Britney Spears can't sing. Nuh uh. No way. She relies on her dancing and swiveling hips and forlorn looks that provide adolescent boys w/ wet dream fuel. However, Britney's album wasn't too bad. Once again, the formula (see Backstreet Boys album review) worked. But the thing is, I felt guilty for actually liking Britney Spears. I don't think she can sing, I don't think she's hot, but shit, those goddamn songs are so catchy.

But also consider these alarming coincidences. Both Christina and Britney are around the same age. Both are seasoned Mickey Mouse Club vets. Both have sex appeal, so to speak. Both rely on the pop formula to generate hit singles. I am a sucker for this formula. Am I gonna get gypped w/ Christina though?

So it was w/ angst that I went out and got the new Christina Aguilera album. I braved the "he's a homo" stares and spent money and effort. So I pop in the CD. Damn the album cover looks so good. Plus on MTV, I saw her eat a hot dog. Took big, deep bites. And then had to wipe the cum off her lips. Excuse me, I meant mustard. Heh.

At the first scan-through of Christina's self-titled debut, the album didn't really catch me. It didn't hook me. At least Britney Spears' album hooked me w/ around 4 tracks immediately. But I was rather confused w/ this offering from Christina. While "Genie In A Bottle" clearly reeked of pop, the rest of the album actually sounded soulful and R&B-ish. This wasn't what I was looking for!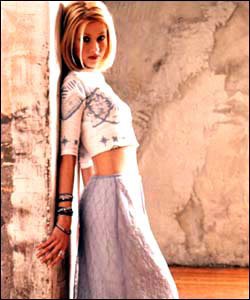 But as I gave CHRISTINA AGUILERA another chance, I realized that the aim of this album was not to be in the Britney Spears category, but to shift more towards the Mariah Carey category. I'd compare Christina to pre-slutty Mariah than to presently slutty Britney. Both Mariah and Christina are blessed w/ soaring, beautiful voices, that are versatile enough to oscillate between smooth R&B and pure Pop Rock.

However, the actual music of CHRISTINA AGUILERA is bland and unoriginal. Her vocal talent is wasted of syrupy love songs that lack depth and any meaning. Aside from the tiresome "Genie In A Bottle" hit, we get only a couple more songs that exhibits Christina true range as a singer. I've already mentioned "Reflection," which is a tremendous example of how far-reaching her voice is.

But there's also a song, "I Turn To You," which I believe is now on the airwaves, that demonstrates how Christina should stick to the Mariah Carey field of R&B/gospel and stay away from the Britney Spears/B'Witched bunch. "I Turn To You" is an artfully crafted song that exemplifies Christina precocious maturity, and probably the best track you can find. It's a shame that the rest of the album can't offering anything w/ half of that song's resonance.

** 1/2 out of 4
Music Scale:
4- a classic; one for the collection
3- satisfactory; worthy of a purchase or at least a listen-through
2- mediocre; get the mp3s
1- atrocious; buy it so you can destroy it and prevent someone else from getting tainted by its hideousness