Third Eye Blind - Horror Show

(By Gerry & Rice)
_
---
SONG OF THE WEEK: THE NEXT GENERATION #8
VARSITY BLUES SOUNDTRACK
"Third Eye Blind - Horror Show" (4,723,468 bytes ZIP format)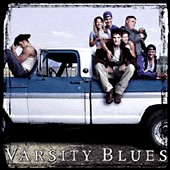 Rice:

I'm not sure how many of you have heard of Third Eye Blind's Horror Show (this week's featured Song of the Week), but I'm sure most of you have heard of or seen Varsity Blues. Well, Horror Show can be found on the soundtrack... and the How's It Gonna Be single. Nope, it's not on either of their two full albums, so MP3 is the only medium in which this song is found widely in (and not even that... I had to dig around for it). Anyways, I remember many people writing off Third Eye Blind as a one hit wonder when they first became widely circulated. However, today they are alive and well, and with two successful albums under their belt, they're also producing soundtrack for movies.
Horror Show is played in classic Third Eye Blind style... with drums and guitars in a traditional rock format. What separates itself from their other singles is its melody. To me, it's just a song that I can listen to on repeat for quite a while without getting sick of, plus it's a good song to nod your head to. Unlike How's it Gonna Be or Semi-Charmed Life, it's tunes aren't killed off immediately. Hm... where am I going with this? Ok, basically I'm saying Horror Show has good replayability. It may not be a song on your all time favorite list, but if you're idle and just want to listen to a random tune, Horror Show is it.
Gerry:

Yeah! VARSITY BLUES! I loved that movie. It was stupid, emotionally dead, but damn, who doesn't like high school football in Texas, where everyone says "y'all" and the whole entire town shows up to cheer their team? Who didn't like Jon Voight at his malicious best as the Jimmy Johnson-like tyrannical coach? Who didn't like whip cream bikinis? And yes, I like Dawson Leary. He's a cool guy. But this ain't about VARSITY BLUES, though I do recommend it because of its earnestness in bringing you a triumphant story. It honestly believed that making it like an MTV music video would be more effective.

Back to the song, the reason I brought up VARSITY BLUES is because you can find 2 better songs on the soundtrack than Third Eye Blind's "Horror Show." Try "Run" by Collective Soul or "Nice Guys Finish Last" by Green Day. "Horror Show" didn't jump out at me. Of course, this is the first time I've heard it. Lemme try again.........

Alright, I don't like it when they sing, but I like the guitar work. Sorta reminiscent of the 60's. Back then, I was in 'Nam shooting charlies in the trees. Yep, dem gooks. I'll conclude this right now, before I start anymore shit.....

D/l this song because it'd be stupid if me and Rice put up songs and you didn't d/l. While I don't really like this song, it doesn't qualify for a automatic deletion just yet. I'm giving it a chance, and that should say enough because my shift+delete trigger finger is one of the itchiest in the West.
Lyrics:
Since I was a little kid,
I tried to get out of my head
Trapped on a playground ,
I'd stare up at the sky
I didn't even know why

But daily life took an evil shape
Some conformed
Some tried to escape
And these are the misfits that i've known
Like a sock in the eye
They feel it to the bone

It's a joke that we all know
We're the bait in a horror show

Yeah, we are all alone
In a horror show

Banish me and mine to outer space
I'd shoot them in a second
Just for the breathing space
I'd put the punks on the moon
Fpr head room
And mods rule the galaxy
That's the way i think things should be
The creep in you is the creep in me
And gravity presses down like a lie
We want wild sex,
But we don't want to die

do you feel there's no where to go
We're the bait in this shorror show
And we're all alone in a horror show
And we're on our own

If I spoke in words of only hate
Tell me would you now
Could you relate?

And I,
I wish i me Lou Reed
Out on his darkened sea
'Cause I felt when his blood would flow
But it doesn't take a thousand years to know
That ship burned a long time ago
And we're freaks in this horror show

We're all alone
We're on our own
In this horror show