I Knew I Loved You - Savage Garden

(By Gerry & Rice)
---
SONG OF THE WEEK: THE NEXT GENERATION #2
SAVAGE GARDEN - AFFIRMATION
"I Knew I Loved You" (4,029,672 bytes MP3 format)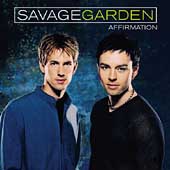 Rice:

Savage Garden rose to fame with their super catchy single I WANT YOU, or better known to some people as the Cherry Cola song, from their self titled album. Then they torched the charts with TRULY MADLY DEEPLY and TO THE MOON AND BACK. What makes these Australian artists so successful is probably the unique style of song writing. Some border on pop, some on R&B, and some just downright alternative. Our new song, I KNEW I LOVED YOU, from there forthcoming AFFIRMATION album, is sung in a smooth pop sytle that will immediately identify the artist as Savage Garden.

What I liked most about this song is how, once I listen to it, I can't get it out of my head. Sometimes that's a bad thing (SugarRay's Someday), but in this case, I enjoy a mellow beat. Plus, I loved their first album, and bought it for my collection. I still think TO THE MOON AND BACK is one of my most fav. songs of all time. For people that are fans of TRULY MADLY DEEPLY, I KNEW I LOVED YOU won't disappoint.
Gerry:
This song just barely made it onto my playlist, but it's already been in heavy rotation. In fact, I liked it so much I even burned it onto an audio. However, as with all other Savage Garden songs, I fear that I'll get tired of this song when KIIS-FM pounds it into my head 3 times an hour. And I just know they'll do it. But till then, I'll soak in this ear candy merrily.
Lyrics:

Maybe it's intuition
Some things you just don't question
Like in your eyes
I see my future in an instant
And there it goes
I think I've found my best friend
I know that it might sound more than
A little crazy but I believe

Chorus

I knew I loved you before I met you
I think I dreamed you into life
I knew I loved you before I met you
I have been waiting all my life

There's just no rhyme or reason
Only a sense of completion
And in your eyes
I see the missing pieces
I'm searching for
I think I found my way home
I know that it might sound more than
A little crazy but I believe

Chorus

A thousand angels dance around you
I am complete now that I found you

Chorus