______________________________________________________
NBA 1999 Season Preview
(By Gerry Wang)
---
NBA 1999 PREVIEW
by Gerry Wang

_____Where do I find the time to do this crap? Geez. I have a shitload of homework, a bunch of stupid tests, 16 hours of slave labor a week, and yet I find the time to write compelling journalistic articles for my rabid fans. (all 3 of them) =)

_____How do I motivate myself, you ask? I mean, look at Kansur's Song of the "Week", which should be more like Song of the Epoch. I guess a cut and paste article is a little too arduous, huh? I'm just joking! College sucks. It totally destroys free time. I know I yap about how it's great, and it is, but damn when the stress hits, it packs a wallop. Kansur's just feeling the crushing pressure in his first year.
_____ Getting back to how I motivate myself. It is very difficult to explain. Why do I keep writing? 1.) I've known Rice since he was a fetus, 2.) I procrastinate when it comes to HW, thus the spare time, 3.) The constant clicking of the keyboard makes me sound diligent and hard-working, and most of all, in regards to THIS article, 4.) THE NBA IS BACK!!!!!!

_____Let me take a few breaths and wipe away my tears of joy. I love basketball. It is my favorite sport to play and watch. When I cut myself, Gatorade bleeds out of my veins. When I die, I want to be buried under a basketball court.

_____So I am giddily writing this preview of the 1999 NBA Season. I know SI or ESPN Magazine won't hire my stupid ESL ass, so you guys have the exclusive rights to my insights. Eat your heart out SI!!!! You want $1.49 an issue??? Are you shittin' me???

_____I will rank the teams by their respective conferences, and give a few of my insights on each team. Then I'll give you my picks for the NBA Finals. Some teams, such as Suckramento may not get as much attention, because they stink, and why should I sacrifice the precious little time I have before carpal tunnel syndrome hits on a crappy basketball team?

_____So here is the 1st Annual Gerry Wang NBA Preview. Pending Rice's approval, there may be a few pics.

_____Hey everyone, I'm gonna take time out here to thank Rice for taking care of all the pictures in my articles. All I do is upload JPGs, and he takes care of the rest. He's as much a part of my writing as I am.

_
********************
WESTERN CONFERENCE
********************
_
Pacific Division
--------------------
---
| | |
| --- | --- |
| | 1.) LOS ANGELES LAKERS- Even though I am sick and tired of watching the Lakers run their entire offense through Shaq, the strategy will still work effectively. The essential nucleus still remains, with the only significant loss being the sorry Nick Van Exel. They replace him w/ Derek Harper, whose veteran leadership will be vital to the Laker's success. Now it seems Rodman is ready to grace us with his presence. |
--> Player to watch: Kobe Bryant- ready to blow up after signing a huge contract. Damn boy, trim that fro already.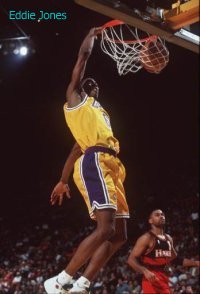 _____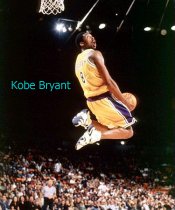 ---
2.) PHOENIX SUNS- With the addition of Tom Gugliotta, Phoenix can now boast an all-white starting line-up. Laugh all you want, but Jason Kidd, Rex Chapman, Luc Longley, and Tom Gugliotta can light up any team.

--> Player to watch: Jason Kidd- he will average near triple-double figures. Definitely the next Bob Cousy, if not the next Magic Johnson.
---
3.) SEATTLE SUPERSONICS- Starting to fade, starting to age. Their most glaring weakness is the front court. No center, no beefy power forward. Vin Baker's good, but too finesse. But they still have all-world point guard Gary Payton, who will probably score more points.

--> Player to watch: Jelani McCoy- my fellow UCLA dude! All he does is dunk and block shots. Let's hope he gets playing time because he's a berserker.
---
4.) PORTLAND TRAILBLAZERS- Traditionally a team of miscreants, they will self-destruct as usual. Name one player without a gangsta hairdo. But along the way they'll upset some folks. They've got some athletes, and a solid center in Arvydas Sabonis, a solid point in Damon Stoudamire. Now they've added Jim Jackson.

--> Player to watch: Kelvin Cato- he's gonna block a lot of shots. I love watching blocks. I like to dream that I have that type of hops.
---
5.) SACRAMENTO KINGS- On paper, they look decent, but come game time, they stinketh. They added Vlade Divac. Whoopee. Never liked like bearded Euro-wimp. But Suckramento's got some size now in the low post. Chris Webber, Vlade, Corliss Williamson. I won't be surprised if they outrebound some teams.

--> Player to watch: Chris Webber- still one of my favorite players, regardless of his throat-slitting, marijuana smoking, shoulder separating habits.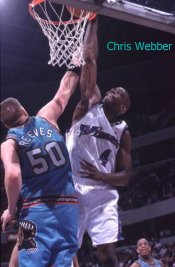 ---
6.) GOLDEN STATE WARRIORS- It was tough to pick who would finish last. The Clippers? Or the Warriors? Had to go w/ the Warriors because they actually have decent middle of the road players now that they dealt Sprewell.

--> Player to watch: Antawn Jamison- potential Rookie of the Year candidate? Perhaps. We'll see.
---
| | |
| --- | --- |
| | 7.) LOS ANGELES CLIPPERS- Last and VERY least we have the woeful Clippers. They couldn't GIVE tickets away. Lamond Murray will lead the team in scoring, and then get traded away for a less valuable player. Why? Because the Clippers' front office delights in trading away talent and getting beans in return. |
--> Player to watch: Michael Olowokandi- was he worth the hype? He basically mooned the NBA and bolted for Europe when the lockout started. Now he got released from his Italian teams amidst rumors he wasn't living up to expectations. We'll see!
---
RECAP
--------
1.) LA Lakers
2.) Phoenix Suns
3.) Seattle Supersonics
4.) Portland Trailblazers
5.) Sacramento Kings
6.) Golden State Warriors
7.) LA Clippers