G E R R Y --I S --G O N E
3-29-99 / 20:45:27
The results of the vote show the public's opinion... on behalf of Rice World I forever ax Gerry from posting anymore articles on thie site.
I'm sorry.
U C O N N --7 7 , --D U K E --7 4
3-29-99 / 20:45:27
Amazing... absolutely stunning... best NCAA game I've watched in a looong time... HATS OFF TO THE HUSKIES!!!!!!!!!!!!!!!!!!!!!!!!!!
| | | |
| --- | --- | --- |
| | | |
| Khalid El-Amin | We Won!!!! | Coach K of Duke... |
What did I say, huh? Cool uniforms aren't they? =)
M I S C . --B L U R B S
3-27-99 / 19:15:40
Got my first college rejection letter today. Amazing how they state it so politely... like if it makes a difference on how you feel if they reject you harshly or nicely. Hmph... yeah, I'm feeling sore, so what's your point? =(
I got another screenshot courtesy of the Firingsquad on the Wingman Gaming Mouse. This time it's the real deal, side by side comparison with the old Mouseman 95. Did I mention that along with the Wingman Mouse you get the full version of Shogo: Mobile Armor Division along with it? For $40.00, that's a good deal.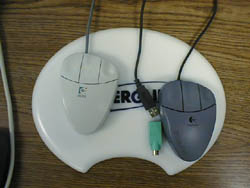 You see the Wingman mouse is USB port, but along with it comes a PS/2 adapter. People like me with old junkie computers will have to adapt the USB with the PS/2 with the serial converter.
Rice World is growing a bit sour lately... I've been thinking about giving Gerry parole... what you guys think? Please vote below:
M O R E --G R E W . . .
3-23-99 / 22:35:23
Yikes, what a reaction I got from Grew's HMO article! Obviously it wasn't such a good idea, so I told him that it'll be discontinued. Hopefully his next article, which is (by continueing the tradition) a song of the week, will receive better feedback. Personally, I have no idea how old or how young this fella' is. Oh, and Crab Cakes (from the messageboard), please show more respect and people from this site will do the likewise with you. Without further ado, click!
N C A A --F I N A L --F O U R
3-23-99 / 22:35:23
Holy cow this is great. I love this College Basketball madness. The final four is here! Duke is like a steam roller with William Avery, Trajen Langdon, and Elton Brand. Michigan State hasn't won a championship since it was let by Magic Johnson. Ohio State had an 8-22 record last year, and has turned it completely around this year. Aren't they better known for their football team anyway? Finally there's UConn, which in my opinion has the coolest logo design on their jersey.
The odds are heavily stacked with Duke, but don't count out any of the other teams either. If I was a gambling man, I'd put my money on Duke, but then again, I never win my bets. =)
A C A D E M Y --A W A R D S
3-21-99 / 20:32:50
Congrats to Roberto Benigni and Gwenneth Paltrow for winning the Best Actor and Actress, respectively. Robeto Benigni really is that hyper happy guy you see in his film "LIFE IS BEAUTIFUL". Did you see it? He was just overflowing with joy. And Gwenneth Paltrow was full of tears as she thanked everyone over and over again. Sigh... the beauties of the Oscars, huh? =)
Quite a hyped up event this is... the hype starts a month before the event, and it's not even that spectacular most of the time (except the big awards and the tap dancing). Check out Gerry's Oscar Preview in the "Articles" section to see if he predicted correctly. =)
G A M E R S --D E V E L O P E R S --C O N F .
3-21-99 / 20:32:50
Ever heard of E3? That big Expo where all the big players in the industry come show off their new stuff to come in the year? The GDC is a smaller version of the E3, without the swarm of people and the overwhelming size of the event. Although I was not fortunate enough to make a trip up to San Jose for the conference, I dug around the net and read everything I could about it. One thing I found very interesting was Logitech's new mouse, called the Wingman Gaming Mouse. It looks exactly like the Mouseman 95, which Logitech discontinued a while ago. Here's a screenshot (Thanks Calbear from Firingsquad):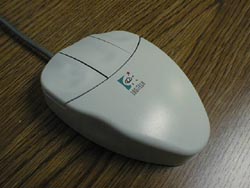 The old "Mouseman 95"
It features a heavier mouseball (don't think dirty) and driver software that allows clocking the sampling rate of the mouse to be much higher than normal for windows. Don't know exactly what that means? Here, have you ever tried to use a Mac G3 or an iMac? Ever notice that their mouse seems to be gliding more smoothly across the screen that yours? That's because Mac mice have higher sampling rate. With the Wingman Gaming Mouse, the software driver provided allows the same. In addition, they also bundle the game "SHOGO: Mobile Armor Division" with the mouse. Not a bad deal, I think I'll grab one myself. =P
By the way, I'm whipping up a "Heroes of Might and Magic III" review. Let me just tell you, it's a helluva game!
A R O U N D --T H E --R I C E
3-17-99 / 21:05:24
It is my great pleasure to introduce our newest addition to the Rice World community. The mysterious staff writer that I hinted at in the previous update has voiced himself. He is known to me only as Grew, and his first article deals with the all-popluar subject of HMO's. To know all that you've ever wanted to know about Heatlh Care (and a lot more), click!
In addition, I have whipped up a Wing Commander movie review for your pleasure. Check it out in the "Reviews" section, or simply click to begin the fun.