A T L A N T A --S H O C K S --V I K I N G S
1-17-99 / 14:31:09
Capping of what may be the most exciting game I have seen in recent memory, the Falcons squeak by the Vikings 30-27 in an overtime thriller. Wow! Who expected the Falcons at the beginning of the season to be NFC champs? They're going to the super bowl for the first time in 30+ years...
Sort of like a cinderella story for the Atlanta Falcons. Underdogs for much of the season, skeptics (ahem, Gerry!) hounding their success and making excuses for why they win. Now they're going to Miami for Super Bowl XXXIII...
"I'm going to Miami..." --Will Smith
S T O C K --M A R K E T --T U M B L I N G
1-14-99 / 22:19:55
Wow! Is everybody in panic or what? Stock market is falling like it's 1999 (okay, bad joke). Apparently there is some Brazil trouble or something... I personally don't understand these kind of money business really well (I'm the type who hides money under the matterss). But I'm posting because it reminded me of something I heard earlier today:
We all know the paranoia surrounding Y2K... how the bug will crash computers world wide and your microwave oven might even explode while warming up some TV dinner... (by the way, I found out my Casio watch was Y2K compliant today. w00p!). So what happens when you withdraw a loan from a certain bank, and soon after the bank crumbles and disappears off the face of the earth? Do you get to keep the money you loaned?
Any money experts willing to lend Rice World their knowledge on this stuff, please post on the Message Board a.s.a.p... very interested to see what happens... because if truely you can keep the loan and get off scott-free... hehehe... can't you just smell the conspiracy cooking?
By the way, thanks to Leo Chan for the thought... this shows how much work we accomplish in Physics, right Leo? =)
P E N T I U M --I I I ' S --A N N O U N C E D
1-14-99 / 22:19:55
Friends of mine may remember my rants about the new Intel chip code-named "Katmai", the chip destined to replace my junky ol' Pentium 100 (of which I am still running right now). Well, the Katmai is now officially known as the Pentium III! *drum roll*
This fancy new playtoy of Intel is set to be released to the market around February, debuting at 450 Mhz and 500 Mhz... with the 533 maybe popping up around March/April. Damn that's some fast shmuck! *Drool*
J O R D A N --T O --R E T I R E
1-11-99 / 22:39:32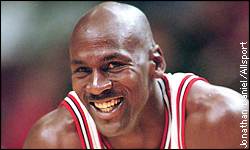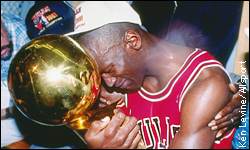 Nike Air Jordans
Wheaties: Breakfast for Champions
Hanes Underwear
6 NBA Championships, 5 MVP Titles, Always an All-Star
"Like Mike... I wanna be like Mike..."
Thanks for the memories!
R E S T A U R A N T --G U I D E
1-11-99 / 22:39:32
Have a big gathering with friends but don't know where to eat? Have a limited budget but want to get the best out of a meal? Stressed out in deciding which fancy restaurant to take your hot date out to?
Wonder no more! Senior staff writer Gerry Wang has compiled a list of local restaurants (providing you reside in the Los Angeles area) arranged via price and in addition has thrown together recommended dishes and directions for those hard-to-find restaurants. Amazing! Check it out in the "Articles" section... or just click!
N I N T E N D O --V. S. --H O L L Y W O O D
1-9-99 / 22:51:00
Doesn't the title sound like MTV's celebrity deathmatch (for those of us lucky bastards with cable)? Except on a more broad and general scale, of course...
Anyway, I digress. Nintendo's Zelda 64: Ocarina of Time slapped down Hollywood and schooled them in the art of profiting from products.
Quoting from the Nintendo news source,
"Nintendo's The Legend of Zelda: Ocarina of Time has established a historic benchmark for the video game and entertainment industry as it generated more retail revenues during the last six weeks of 1998 than any Hollywood feature film released over the same time period."
Here's the comparison chart:
Legend of Zelda - $150 million
A Bug's Life - $114 million
Enemy of the State - $92 million
The Rugrats Movie - $85 million
Actually, if you break it down, Zelda made more dough because it costs around $60 bucks to buy that sucker, while watching a movie only costs around $7, $4 if you're a cheap matinee go'er like me.
Still, I thought this was an interesting tidbit. Who knew this game was going to be such a smashing hit? Hehehe... actually, it was the comparison I found that struck me funny. When people start comparing console game sales to movie net grosses, you KNOW that the millenium is coming. =)
Anyway, thanks to the Adrenaline Vault for this story.
A R O U N D --T H E --R I C E --S H M U C K
1-8-99 / 23:49:30
Procrastination... it attacks us all! Even on updating web sites. Oh what the heck... =)
For those of you that visit this site periodically, you may want to split the visit in two, because do I have articles and reviews for you. For this update we witness the come-back of the song of the week, except it's no longer known as song of the week, but song of the whenever. =)
And then I have 3 more articles / reviews from your favorite staff writer, Gerry! Funnier, more upbeat, and a lot more comprehensive than ever, don't forget to check it out. NFL Playoff Previews, Lion King II: Simba's Pride review, and top T.V. Shows this season. Woooo that's a chock full.
N B A --L O C K O U T --. . .
1-8-99 / 23:49:30
... is over! Season to start somewhere in early February, after they get the contract drawn up and all that good official paper work shmuck.
Do we care though? The NBA has put a severe dent into my enthusiasm for watching professional basketball. This season will not be one that I will remember for the game itself, but for the season that was nearly not a season...
Greed kills all, gluttony is sin... death to the NBA owners!
S C H O O L --B E G I N S
1-3-99 / 18:25:20
Winter break draws to a close, as does 1998. What a load of baloney. =)
I echo the thoughts of millions of students around the country as I say this: School, although necessary, is the number one cause of teenage depression. Isn't that a cheery thought.
I have a question for all of you... for me, this year's Christmas holiday seems a bit hollow to me... strangely unfullfilling. So what I'm asking is, is it just me, or is the atmosphere just bleaker than usual? Hm... It's got to be the loads of assignment the teachers like to dump on you. Damn.
Okay, I'm yakkin' away here like a dork. I'm going to go eat dinner now...
B U F F A L O --F U M B L E S --A W A Y --V I C T O R Y
1-2-99 / 13:05:07
Well what can I say, this was an exciting finish down to the very end... What looks to be a locked win for Miami after Marino tossed a touchdown to Lamar Thomas to give the Dolphins a 10 point lead turned into a wild chase all the way to the finish. About six yards away from a touchdown, and a tie to send the game into overtime (providing the extra point was good), Trace Armstrong leveled Doug Flutie and knocked the ball out as a fumble. Miami recovers, end of story. Buffalo had a real chance to win this game, but a few unlucky calls and some bad fumbles led to the loss. Don't pin the loss on the refs... Buffalo fumbled the game away.
Thanks to Dan Marino and the Dolphins for a great game.
Thanks to the referees for calling an overall solid game.
Thanks to Doug Flutie, Eric Moulds, and the Buffalo Bills for their tremendous season.
Miami 24, Buffalo 17... Good luck against your next opponent!