A R T I C L E S --G A L O R E
12-12-98 / 16:37:26
Well, there are some good news, and some bad news. The bad news is that Senior Staff writer Gerry has decided to ax his weekly video picks. We'll miss your lewd/raunchy articles!
The good news is that he has provided Rice World with FIVE new articles this week! Hooray! Go indulge in the "Articles" and "Reviews" section... lots of goodies for you movie junkies!
A R O U N D---T H E --R I C E
12-12-98 / 16:37:26
A couple of site related news... First of all, I slightly revamped the "Articles" and "Reviews" page a bit so it's more organized now. They're split into their different respective categories for your browsing convenience. Please give some feedback on what you think of it.
In addition, I updated the "Links" page a bit. Thresh's Front Line is no longer in operation, since he started his new site called Thresh's Firing Squad with his buddy Kenn. The link has been updated with that information. Don't forget to check it out.
Oh, and I almost forgot, Kansur's songs of the week will be put on a slight hiatus, since his site links are more or less dead. Please be patient as he searches for a new source that can supply the demands of the songs of the week.
S N O W --I N --L A S --V E G A S
12-8-98 / 21:18:03
'nuff said... pack your bags and head for the strip! I think the last time it snowed in Vegas was back during the Civil War... or maybe even the Renaissance. =)
J E T S --V . S . --S E A H A W K S
12-8-98 / 21:18:03
Okay, this is the last time I'm gonna bitch about this... hee hee =)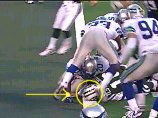 Check out the yellow arrow pointing at where Testaverde's head is positioned and circled.
HE'S NOT IN THE ENDZONE!
HIS DAMN HELMET'S NOT EVEN IN THE ENDZONE!
Touchdown my stinkin' butt....
N F L --G R U M B L E S
12-7-98 / 01:28:41
Here's another prime example of the crappy job the league officials have done this season. With 30 seconds left in the 4th quarter and the Seahawks leading, Vinny Testaverde ran a quarterback draw on 4th and goal at the 5-yard line. Quite apparently he was stopped short of the touchdown (quite a bit short actually, after they showed the replay) yet the blockhead officials ran over and signaled a touchdown!

WHAT??!?!?! NO WAY MAN!!!!!

Jets win... 32 to 31.

After this loss, the Seahawks are out of the playoff picture...

The officials who made this call were the SAME officials that worked at the Pittsburg-Detroit Thanksgiving game. For those of you that don't know what happened, everybody in the stadium heard Jerome Bettis of the Steelers call TAILS over the microphone on the overtime coin-toss, but the official insisted he called HEADS and Pittsburg eventually lost the game because of that!

They had better bring back instant replay by next week...

By the way, Buffalo won against Cincinnati. Hey Gerry, why do you always pick against my Bills? Flutie's magic is wearing out... and transforming into consistent skill. =)

Did you guys see that chunk of asphalt that fell from the stands at Cincinnati? Good thing no one was standing beneath it. Yikes!

You know, I think Pittsburg might have been a better team if they worked as hard as they do in the off-season on their game as their commercials... especially QB Kordell Stewart.
U N D E R --S E I G E
12-3-98 / 19:20:13
... is this week's video pick of the week in the "Articles" section. Gerry's back and raunchier than ever with his new video, and oh, this is Under Seige 1, not 2. Better go check it out guys... not a recommended article for girls though. =)
Along with that is this week's football picks. Check out the lock of the week... very gutsy call. Also in the "Articles" section for your enjoyment.
A R O U N D --T H E --R I C E
12-2-98 / 20:21:47
Lots of tasty miscellaneous junk to go around for everybody today. First and formost is this week's "Song of the Week" courtesy of Kansur. It features the Goo Goo Dolls, the band that did the hit song "Iris" for the City of Angels soundtrack. Go grab it in the "Articles" section.
A couple of people have been asking me about 3D cards and which ones they should buy, etc.... There's a nice bowl of information at Gamespot called the PC Workshop written by Lloyd Case. This current installment features all the goodies about 3D cards any aspiring gamer should check out. Click!
Have you ever heard of the term "overclocking"? It's basically a manual process that involves taking out your motherboard and tweaking your chip to make it go faster than it's actually able to go. Before, overclocking was a dangerous and risky thing to do. Now, with today's high tech motherboards and Intel's flexible Celeron chip, overclocking has become a hot new hobby. There isn't a better time to buy a $150.00 chip and pump up the performance equal to a $500.00 P2-450! ..... Have no idea what I'm talking about? No problem. Sharky Extreme has posted up a comprehensive guide to overclocking, including all the dangers and the concept behind this powerful procedure. Click!
Last but not least, Quake II has come out with YET another patch. This time it's at v3.20. id software promised this would be the last patch on Quake 2. Oh joy... you can grab this baby here: click!
D R . --J A C K --K E V O R K I A N
12-2-98 / 20:21:47
I think most of you know who this guy is. Kevorkian is also known as the suicide doctor, the famous fellow that recently taped himself helping some guy commit suicide and aired it on CBS's 60-minutes. Well, he's now being prosecuted for first-degree murder, and the funny thing is, I think Mistah Kevorkian actually wanted them to prosecute!
So is he guilty of FIRST degree, not second nor manslaughter, murder?
No man, he's not! I personally cannot see any reasoning behind the people who are against his practice. As a matter of fact, I support his practice! I think it's a very noble and brave thing a man can do. Quite obviously he's not killing for the enjoyment of it, he's killing the patient at the patient's request. Suicide is definitely easier, and more comfortable, if you have someone else drug you while you fall asleep into bliss.
The patient in 60-minutes was suffering from a deadly disease called "Lou Gehrig's disease", named after the baseball superstar that died due to that very same illness. Anyhow, what Lou Gehrig's disease does to a victim before he/she dies is that the victim basically thrashes and chokes to death. Quite a gruesome, and messy way to die in my opinion. There is no cure. Needless to say, that patient was horrified at his fate, and suffered bouts depression and pain. Here's where Dr. Kevorkian comes into play: The doctor injects Potassium Chloride into the patient's blood which in turn slowly stops the heart. In the end, the patient's family becomes extremely grateful to the doctor for putting their suffering relative to peace.
Now you tell me, what's wrong with that?